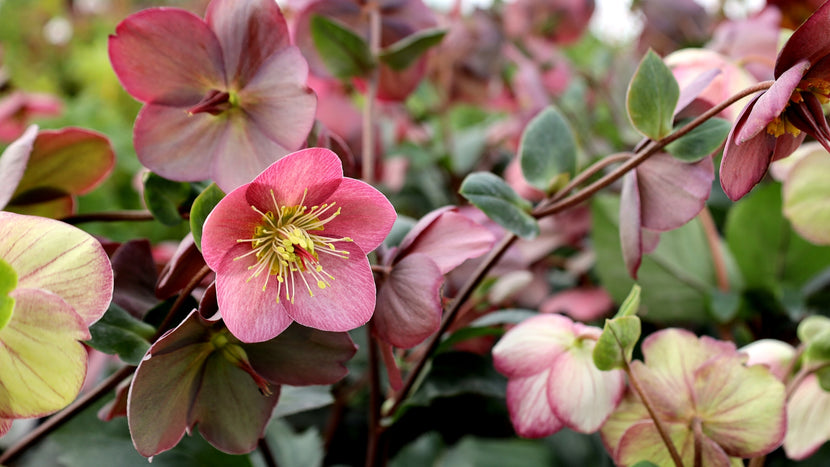 Beautifying Your Yard With Helleborus
Helleborus, also known as the Lentin Rose, is a well-loved winter-blooming perennial. Boasting the most unique flowers, these breathtaking plants are invaluable additions to the garden. 
Coming in a wide range of bloom colors, there is a Helleborus strain for any and every garden design! Delicate rose-like petals grace these hardy perennials, but the real star of the show is the explosion of white to golden yellow stamens in the flower's center.
Additional reasons to love Helleborus include their tolerance to cold weather, resistance to pests, and easy care regimen! Bring unmatched exotic beauty and sophisticated charm to your landscape this season when you plant these magnificent perennials!
Types of Helleborus For Sale Online
Helleborus Companion Plants
Once you've selected which Helleborus you want to grow in your garden, it's time to incorporate some Lentin Rose companion plants!
For the hardy perennials that thrive in shade, you will want to select plants with similar care needs. We've taken the liberty of picking out our favorite plants to pair with Helleborus!
Some of our favorite plants to pair with your Helleborus include hostas, hardy ferns, and sedge grasses. These options all exude understated beauty and are great low-distraction options that let the Hellebore have its moment in the spotlight. These shade-loving perennials also have very similar care regimens making it simple to care for your shade garden.
If you are in search of more unique colors and exotic beauty to pair with your Helleborus, we would recommend planting Mediterranean Heather or Dicentra Bleeding Hearts. Your garden will become an explosion of color in late winter that lasts into the early spring.