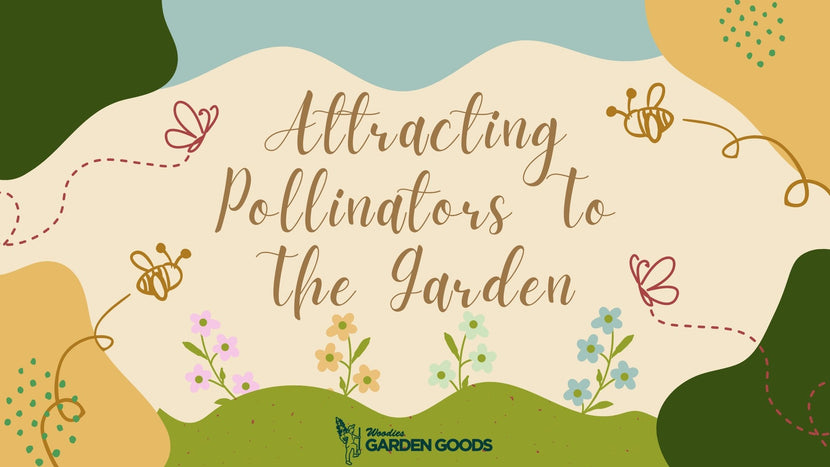 Attracting Pollinators To The Garden
Benefits of Attracting Pollinators
In recent years, the practice of gardening and landscape planting in general has increased exponentially. People are spending more time outside beautifying their yards with colorful flowering trees, shrubs and perennials.
With this increase in yard planting, has come the increased awareness of our pollinators and all that they do to provide for our ecosystem. From bumble bees, to butterflies, hummingbirds and everything in between, the little creatures that move pollen from one plant to another work to support a good majority of the world's crop and food production.
In a 2018 study from the Journal of Entomology and Zoology Studies, researchers determined that insects and other animal pollinators are vital for the production of healthy crops for food, fibers, edible oils, medicines, and other products. In the study they reveal that out of nearly 1,300 plants cultivated for human benefit and consumption, 75% are pollinated by our insect and animal pollinators.
So in short, we need pollinators…but our pollinators also need us! Pollinator populations are declining at an alarming rate due to destruction of habitats, pesticide use, invasive species and general neglect for their basic needs. By making certain gardening choices like planting native and choosing pollinator plants, you can make a huge difference in the wellbeing of our pollinators and your local ecosystem. If planting a few flowering plants can do all that, then what are we waiting for?!
For more reasons to love pollinators, check out our blog on the importance of pollinators!
Tips To Growing Your Pollinator Garden
Before we dive into the best pollinator attracting plants, we want to discuss some key factors in what a pollinator looks for in a garden. The main steps to ensuring your garden protects and helps your local population of pollinators start with planting a wide variety of pollinator attracting plants, choosing plants native to your zone, and most importantly making the decision to go organic in the garden.
Plant a Variety
A main factor that will bring a range of pollinators to your yard is variety. Pollinators often use visual cues of a plant's shape, size and color to decide on a plant to pollinate. Just like humans are each attracted to different elements, contrasting flower shapes and colors work to draw in different pollinators!
Choosing a variety of plants ranging in shape size and color will work to ensure that you bring in a wide range of pollinators! Additionally, choosing plants that bloom at different times of the year can guarantee a continuous food source for your local pollinators throughout the seasons.
Choose Native
Next on our list of factors to consider when choosing what plants will attract pollinators, is the concept of planting native. Choosing yard plants that are native to your USDA grow zone will not only secure their growth success in your climate, but will also be most attractive to your local pollinator friends!
Go Organic
Last but not least is the concept of going organic in the garden. By using pesticides and harsh chemicals on your garden plants, you are also putting your pollinators at risk! Choosing to use all natural, organic methods of pest prevention can protect the safety and health of both your pollinators and your plants!
Top Five Pollinator Plants To Add To The Garden
The Garden Goods Direct team wants to do all we can in benefitting the world's pollinators. So we have compiled a brief list of the top five plants you can add to your garden this season!
It is important to note that there is an expansive range of pollinator plants available for your choosing, and these are just a select few that get the job done. For a more broad selection of pollinator-friendly plants we recommend you check out our Pollinator Perennial Plant Collection!
Achillea
First on our list of pollinator-loving plants is the classic and colorful family of plants– Achillea. Also referred to as 'Common Yarrow,' these flower-powered perennials will easily brighten up a yard and with it bring a series of pollinators!
The plant's fern-like foliage pairs beautifully with the millions of blooms that emerge in clusters, sitting high above the foliage. Achillea plants are extremely low maintenance and are also fairly drought tolerant, making them ideal for hot climates where many pollinator plants wouldn't survive. These popular pollinator perennials are best suited for USDA grow zones 3-9.
Common Yarrow plants are prominently used in mixed borders, mass plantings and container gardens. The bright colors and unique flower structure will add texture and diversity to your garden while pulling in a ton of pollinating insects and animals.
Coneflower
Next on our list of pollinator plants is the bold and unique Coneflower. Botanically referred to as Echinacea, Coneflower plants are a butterfly attracting favorite…and we can't blame the butterflies for loving on this one.
Coming in a variety of bright colors and boasting long bloom times, these fun perennial plants are quite irresistible. Coneflower plants enjoy bright sunshine and are highly drought tolerant once established. Tolerant of a wide variety of growing conditions, these North American Native plants are low maintenance, but high reward plants.
Perfect for USDA grow zones 4-9, Echinacea flowers often grow tall and work to make a real statement in any garden. As an added bonus, these gorgeous blooms make for a stunning addition to cut flower arrangements.
Sedum
Sedum is next on our list of pollinator plants to love! The spunky bundles of tiny star-shaped blooms bring a host of pollinators to your yard. Not to mention, the plants have an extremely easy care regimen and are tolerant to a wide variety of conditions.
These hardy perennials make for a grand show throughout the summer season as most Stonecrop plants also change colors throughout their bloom time. With semi-succulent foliage your sedum plant can withstand periods of drought and handles direct sun better than most garden plants.
These lively perennials make for great additions to perennial borders, rock gardens and as space fillers where you may struggle to grow other plants.
Milkweed
Your pollinator garden simply wouldn't be complete without the classic and stunning Milkweed plant! With over 100 species to choose from, the options for Milkweed plants are endless.
Botanically referred to as 'Asclepias,' Milkweed plants are well known for their ability to attract Monarch Butterflies, seeing as they are their main food source. In addition to Monarchs, native Milkweed plants also work to support other necessary pollinators like bumblebees.
Depending on the type of Milkweed you choose to plant in your pollinator garden, the care practices will vary. It's important to note that you should choose a Milkweed that is native to your planting zone for best results.
Solidago
Solidago plants, or more commonly known as 'Goldenrod Plants,' radiate warmth and sunshine through their bright yellow hues. Perhaps this is what draws in the wide variety of pollinators that bask in its aura.
Unlike many pollinator-friendly yard plants that bloom in spring and summer, Solidago blooms in the fall. Planting these golden cones of sunshine will surely add some warmth and happiness to the yard as temperatures begin to drop. Lover of partial to full sun, these hardy perennials can grow up four feet tall.
Goldenrod plants look sensational in border gardens and foundation plantings. Plant Solidago in your garden this spring to enjoy the captivating golden blooms come fall.
Shop Garden Goods Direct
No matter what your reason is for planting a luscious garden this season, we hope that you keep our ever-so important pollinators in mind! In being conscious of these little organisms who are the backbone of our ecosystem, you can make a real difference in the garden!
Garden Goods Direct has a wide selection of trees, shrubs and perennials to craft the pollinator garden of your dreams! For an all encompassing list of pollinator-friendly plants, be sure to check out our Pollinator Plant collection!