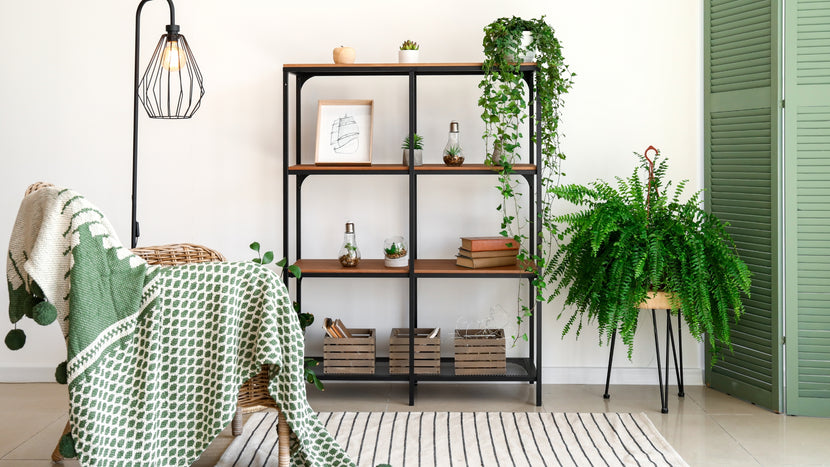 6 Houseplant Design Tips To Transform a Space
When it comes to designing and decorating an indoor space, the addition of a few leafy greens can make all the difference! Indoor plants are one of the best, and most cost-efficient options for transforming a space from just your basic room to a relaxing oasis.
When it comes to incorporating houseplants into your home décor, there are a few factors that can really elevate your design and have you feeling like a planterior designer in no time!
Keep reading to learn a few of our favorite ways to incorporate plants into a space in a way that is aesthetically pleasing and transformative to a room.
1. Houseplant Variety Is Key!
Incorporating a variety of different leaf colors, textures, shapes and sizes can really add flare and style to a space. By choosing a few larger plants for floor space, as well as some smaller ones to line the window sills and small surfaces of a home, you will be able to add splashes of life and color wherever needed!
We love the way a trailing plant can bring effortless beauty and widespread beauty to a bookshelf or high up surface! And a larger floor plant like a Monstera Deliciosa or a Fiddle Leaf Fig can work to fill large empty corners of your home in need of a little style and color.
2. Use of Plant Stands and Shelves
Our next tip when it comes to decorating a home with plants, is to use different means of displays to give each plant a different and unique element of design. Plant stands allow you to layer your plants carefully, so that each plant can be seen and admired.
When you gather a plant collection all on a flat surface like a coffee table, it can be hard to see the beauty of each plant. In addition to plant stands, wall shelving is a great way to ensure that each plant has a good visible spot in your home.
If you're looking to save some funds and don't want to splurge on a new shelf or plant stand, make-shift plant stands out of old chairs, stools, and even books can add a charming feel to your space!
3. Hanging Planters
As a popular design of the 70s, the use of macramé plant hangers is making a comeback and we are here for it!
Adding hanging plants to a space, whether they are macramé or just your basic string and a pot, is a fun and unique way to display your houseplants in a home. Depending upon the type of hanger you decide to use, you can really set the mood and overall feel of a space. Macramé hangers bring an exotic and bohemian feel, while solid string connected to pots can feel more modern and eclectic.
Additionally, the use of hanging planters can help to bring life to the smaller, more crowded spaces of your home where you feel like a plant on a table top will just take up too much space.
4. Hydroponic Design
Another great way to both make for convenient and easy care of your plants while also adding style and design of a space is through hydroponic growth mechanisms.
Whether you choose to grow your plants through propagation in water or through a hydroponic medium like LECA, choosing to grow your plants in a new way gives you room for design in your selection of your plant's reservoir.
Using funky glassware, mason jars, an even recycled glassware from a kitchen can bring a fun new feeling to your indoor space. Plants like the Golden Pothos, or the Satin Pothos are a great option for growing in water and when grown in a clear container, and bring the new visual of the roots suspended in the water that you wouldn't get with a potted plant.
5. Low Light Plants To Brighten a Space
Do you have a room that just doesn't get great lighting but you feel it needs a little greenery? Despite popular belief, you don't need to jump straight to the option of faux plants. There are a multitude of plants that can actually survive with little to no sunshine whatsoever!
Plants like snake plants and zz plants are a wonderful option for bathrooms, basements and rooms without ideal lighting! Our Low Light Plant Collection contains a wide range of plants that are perfect for those tricky spots in your home where nothing seems to survive!
Adding a plant like the Laurentii Snake Plant, or the Philodendron Congo Rojo to a lowly lit space like a home office or basement would easily bring bright colors and liven it up.
6. Grow for Practicality
Our last houseplant hack for transforming an indoor space is to plant for practicality. This could mean a lot of things, but for us, we believe this means using plants to both add beauty and convenience to your everyday routines.
Some great ideas for practicality and convenience would be to grow a citrus tree like the Meyer Lemon Tree in the kitchen, and an air purifying plant like a peace lily in the bedroom. Additionally growing herbs like Lemon Thyme and Rosemary in the kitchen is a great idea.
Shop Garden Goods Direct
Whether you're looking to brighten a space, or add some sophisticated flare, plants have a way of turning a house into a home. Once you start incorporating indoor plants to fill the empty spaces of your home, you will feel like a true interior designer.
Here at Garden Goods Direct, we offer a wide range of indoor houseplants available for your purchase, and you can have them conveniently shipped to your front door! Shop online today!