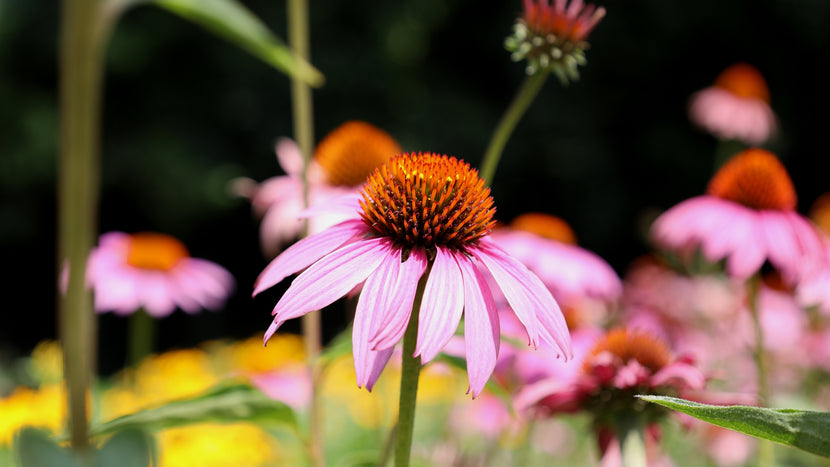 6 Best Late-Summer Blooming Perennials
When you think of the typical timeline for plentiful blooms and a landscape full of color, your first thought is probably that spring is the optimal time for gardening. However, some of our favorite perennials don't make their debut till late summer!
If you've caught the gardening bug, but feel like you're late to the planting game, think again! We've compiled a list of our favorite late-summer-blooming perennials that are hardy to the elements and will have your summer yard exploding with life and color year after year!
Echinacea
Echinacea, more commonly known as 'Purple Coneflowers', are North American native perennials, loved for their wide range of colors, and impressive hardiness to a wide range of environmental conditions. Colorful blooms sit atop tall, thick stems against refreshing green foliage that makes for an unreal addition to the garden.
Coneflowers are notably fast growing and reach a mature height between two to four feet tall. The iconic bloomers flower from midsummer through to fall's first frost! The gorgeous garden plants get their name from the raised cone-like centers that work to attract a range of pollinators from bees, to butterflies, songbirds, and every pollinating worker in between.
These long-booming, easy-to-grow- perennials come in a range of colors from the classic purple of the Magnus Echinacea, to a more unique and bold lime of the Green Jewel Echinacea.
Echinacea is the perfect summer planting option for garden novices and experts alike. Boasting a laidback care regimen and strong tolerance to drought, Coneflowers will be your new favorite feature of the garden.
 Rudbeckia
Next on our list of best summer perennials is the classic and beautiful Rudbeckia. Better known by their nickname: The Black Eyed Susan, these late-summer bloomers bring effortless golden warmth and beauty to a landscape.
These easy-to-care-for plants are a true garden staple. Golden petals contrast with dark centers and sit atop tall stems for a magnificent show of color. Rudbeckia is a US native wildflower that easily tolerates full sun and doesn't mind a little acidity in its soil. The daisy-like flowers work magically when planted in mass and make fantastic additions to cut flower arrangements.
Other than deadheading, once planted, your bright yellow Rudbeckia blooms need little attention to flourish. Once established, the golden bloomers will be drought resistant and handle hot temperatures and high humidity with ease.
Delosperma
Delosperma, also known as 'Ice Plants,' are one of the most underrated late-summer perennial plants around. Producing little fireworks of vibrant colors, this groundbreaking species is the first of its kind to be designated as cold hardy!
Delosperma is a popular option as a groundcover plant for it sports fast growth rates and deer-resistant evergreen foliage. Ideal for USDA hardiness zones 5 to 9, these plants have a significantly long blooming period and they require little water and attention to thrive.
Allium
These funky spherical bloomers look to have hopped straight out of a Dr. Seuss book. If you are in search of a late-summer flower that adds interest and unique appeal to the garden, then the Allium is the plant for you.
Pushing out blooms from mid-summer to early fall, you will surely be in for a treat and a show when you plant allium in the yard.
Also known as 'ornamental onions,' these purple plants are a perfect option for attracting pollinators to the yard. Alliums work beautifully in a wide range of garden projects and look especially stunning when planted in mixed borders and flower beds. Because of their unique look, Alliums are also great as a focal point of the landscape!
Sedum
It doesn't get much better than the Sedum! This perennial plant has thick, bright green succulent foliage and an abundance of clusters of star-shaped flowers. The thick stems bring beauty but also work to store access water allowing the hardy landscape plants to handle extended periods of drought with ease.
Growing well in just about any soil medium, the Sedum plant is an ideal option for areas of the yard where many plants fail to thrive. Additionally, Sedum easily attracts butterflies and provides interest and color to a late-season landscape.
A fan-favorite Sedum variety to grow in late summer is the Sedum Autumn Joy. Blooming a plethora of pink flower heads from summer through to early fall, the reliable perennial will bring you an extended season of color and happiness.
Hardy Hibiscus
Last but certainly not least on our list of favorite end-of-season bloomers is the Hardy Hibiscus. These are truly show stoppers in a landscape. Producing gigantic tropical flowers bigger than your head, you will not be disappointed by the Hardy Hibiscus.
As a favorite nectar source for both butterflies and hummingbirds, your yard will transform into a wildlife oasis when you plant these bombshells. If you're looking to go out of the summer garden season with a bang, these late-summer bloomers will get the job done.
The Hardy Hibiscus is a great option for the wet areas of the garden as they enjoy moist soils more than the typical summer perennial would.
Grow Your Summer Garden With Convenience
With the craziness of vacations, back-to-school shopping, and just the everyday hustle and bustle that comes with life, finding the time to make it to your local garden center can seem impossible.
We cut out the middle man to make life easier for you! Have your summer perennials shipped straight to your door and garden with ease when you shop with Garden Goods Direct!