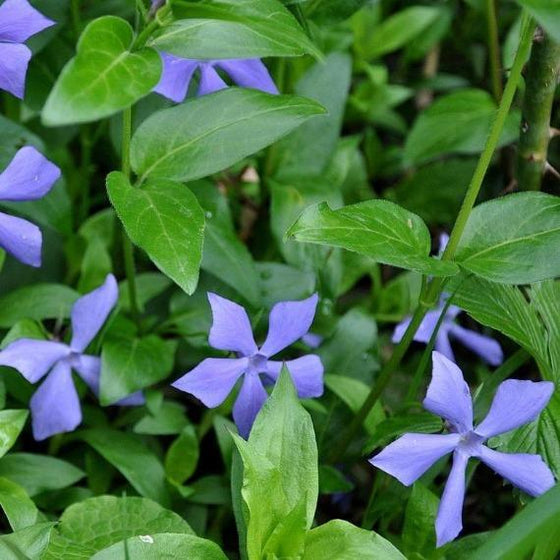 Images Depict Mature Plants
Periwinkle Plants for Sale Online
Vinca Minor or Periwinkle plants are among the best groundcover plants for shade. It's an excellent choice for an erosion control specimen. Vinca minor produces large, violet-blue, pinwheel-shaped flowers highlighted against glossy dark green leaves and is evergreen in most climates. Although this plant is shade-tolerant in warmer temperatures, it will tolerate full sun in northern climates. However, growing Periwinkle in partial shade creates a more vigorous growth.
Once established, evergreen periwinkle is drought resistant and needs little other care if properly sited in the landscape. This plant grows in moist soils but prefers nutrient-rich, moist soil. Native to Central and Southern Europe, Periwinkle usually blooms from May through June.
Periwinkle is great for filling in the unused landscape bed area and has a tendency to climb a little.
---
Growzone: 4-8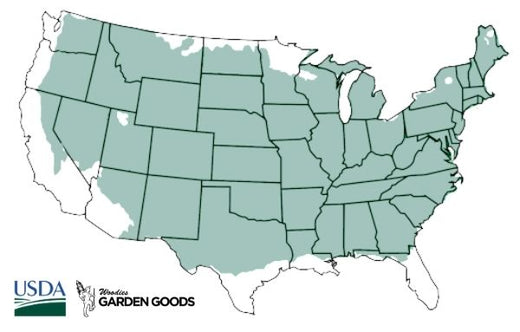 | | |
| --- | --- |
| Hardiness Zone: | 4-8 |
| Mature Height: | 8 Inches |
| Mature Width: | 6 Inches |
| Sunlight: | Full sun to part shade |
| Water Requirements: | Water well until established |
| Selling Points: | Evergreen, flowering, spreads quickly, tolerant of all light conditions, fast growing |
| Details: | An evergreen ground cover that makes a thick carpet of trailing stems. Blue, periwinkle flowers rise just above the deep green glossy foliage in spring. This is an excellent ground cover for shady areas of the landscape. |
---
How to Care for Periwinkle Plants
Before you buy a Periwinkle plant, make sure to read about the recommended care instructions to keep this plant healthy and thriving.

How should I plant Periwinkle?
We recommend planting your Periwinkle in an unused area in your garden landscape. This plant is commonly used as a ground cover, and grows rapidly - almost invasive. Plant in spring or early fall and keep site moist for the first two months while establishing roots. Space your plants 6 inches apart for complete coverage within one year. Spacing 12 inches apart is ideal for long-term growth. If you're looking for a more controlled growth, we recommend planting your Periwinkle plant in a pot.

How should I water Periwinkle?
Although Periwinkle grows best in moist soils, its vines are overall drought-tolerant once mature. We recommend watering your plants once to twice a week, depending on the humidity level of your climate to ensure its favored moisture level. Always be careful not to overwater your plant. Overwatering could cause your plant's roots to sit in standing water for too long and cause their roots to rot. Root rot disease can kill your plants.

How should I fertilize Periwinkle?
We recommend fertilizing your Periwinkle plant once a month during the growing season with a balanced fertilizer. While fertilizer is not required for planting Vinca minor, it will result in a more vibrant foliage and additional production of blooms. During their dormancy season, do not fertilize your Periwinkle plants. Feeding them during this time, usually late fall through late winter, could interfere with their next growing season.

What type of light is best for Periwinkle?
Vinca minor grows in a range of light including partial sun, partial shade, and full shade. For the best results, we recommend planting Periwinkle in partial shade for optimal growth. Avoid planting in direct sunlight which can burn the foliage and blooms. Light morning or evening sun is okay for these plants, but any bright, direct mid-day sunlight will damage your plants overtime.
---
Frequently Asked questions
How quickly does periwinkle plant spread?
Is periwinkle plant poisonous to dogs?
How Do I Stop my Periwinkle from Spreading?
---
Other Products you may be interested in
---
Customer Reviews