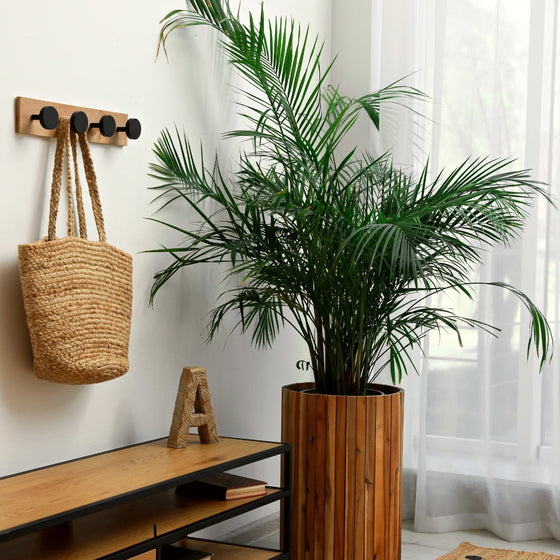 Images Depicted Range in Maturity & Container Size
Pots Not Included Unless Otherwise Stated
Majesty Palms for Sale Online
Native to Africa, Majesty Palms or Majestic Palm is a popular indoor houseplant known for its flair-shaped growing habit and long bright green foliage. This tropical palm is easy to care for and loves bright, indirect sunlight and humidity. Majesty Palm can reach heights of 15 to 20 feet outdoors with the proper care. 
Although Majesty Palm is slow-growing, it should be re-potted each year to ensure continued growth. Due to its tropical nature, Majesty Palms should be watered regularly to maintain moist soil. Overall, the Majesty Palms are great for those new to houseplants and looking for an easy-to-care plant as they do not mind being over-watered.
Majesty Palm is a shade-tolerant palm but enjoys humid air for optimal growth.
To read more about how Majesty Palms and other plants can help you create a tropical oasis at your home, please read our blog: 6 Plants to Transform your Outdoor Space.
*Decorative containers shown are for display purposes only. All plants are shipped in black plastic nursery containers unless otherwise specified.
---
Growzone: 9-11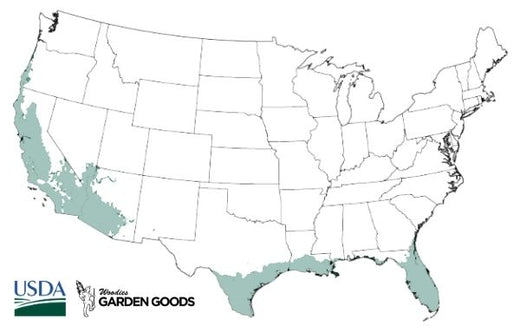 | | |
| --- | --- |
| Hardiness Zone: | 9-11 |
| Mature Height: | 48 to 60 Inches |
| Mature Width: | 30 to 36 Inches |
| Classification: | Green foliage |
| Sunlight: | Bright indirect or some direct light |
| Habit: | Clump forming |
| Flower Color: | White, rarely flowers |
| Foliage: | Green, grassy |
| Soil Condition: | Well draining, cactus or succulent mix (part sand) |
| Water Requirements: | Likes to stay moist |
| Uses: | Excellent indoors as focal point or background |
---
How to Care for Majesty Palm
Before you buy a Majesty Palm tree, make sure to read about the care instructions that are required and recommended to keep this plant healthy and thriving.

What is the best soil for a Majesty Palm?
Majesty Palms grow best in fertile soil that retains moisture and drains well. If planted in the ground, you'll want to ensure it's well-aerated and loosely packed. If potted, you'll want to add mixtures of sand, compost, or peat moss. Majesty Palm doesn't grow well in soil that is too dense.

How do I water Majesty Palms?
We recommend that you water your Majesty Palm regularly to keep its soil from completely drying out. Majesty Palm naturally grows near streams and rivers - so moist, well-drained soil is key. If potted without a drainage hole, placing small rocks at the bottom will ensure your plant doesn't experience root rot.

When should I fertilize Majesty Palms?
We recommend fertilizing your Majesty Palms once every two to three months during the spring and summer growing season. Give your plant a good watering after fertilizing your plant. During the winter months, you should refrain from fertilizing.

What is the best light for Majesty Palm?
While Majesty Palm will tolerate shade, for optimal growth its best to place your plant in bright, indirect sunlight. Find a corny near a window in your space to ensure it has access to abundant light. You'll want to avoid placing your Majesty Palm in direct sunlight to prevent scorched leaves.
---
Frequently Asked questions
Are Majesty Palms pet safe?
How tall do Majesty Palms get?
---
---
Customer Reviews