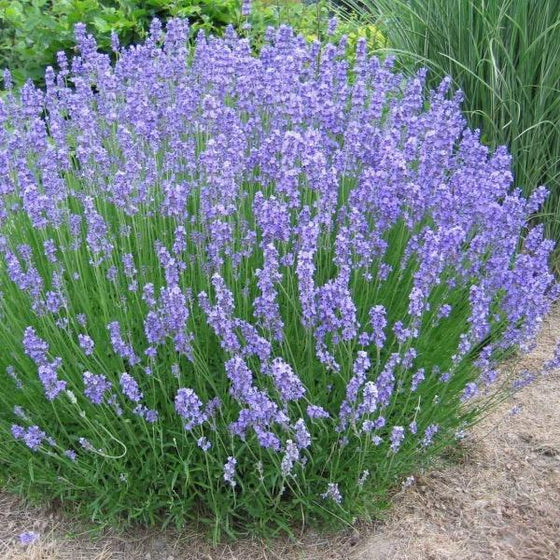 Images Depict Mature Plants
Phenomenal Lavender for Sale Online
Phenomenal Lavender (Lavandula x Intermedia) is a French lavender hybrid that was developed with heat and humidity tolerance in mind. The fragrant and enchanting purple-blue flower spikes sit atop a leafy silvery green foliage.
The fragrant flowers on the Phenomenal Lavender tend to be darker than its lavender cultivar the Provence Lavender. In addition to the plant's tolerance to high temperatures and moisture levels, the hardy lavender also has significant cold hardiness. The tough yard plant is also deer resistant and tolerates drought better than most herbaceous perennials.
Ideal conditions for growing Lavender include full sun and a well-drained soil medium. The hardy garden plants tolerate a wide range of soil conditions including clay soils, sandy soils, and low fertility soils. The plant's incredibly tolerant and low maintenance care preferences make it ideal for garden beginners and intense climates.
It's a consistent favorite within the gardening community for its strong yet pleasant aroma, among many other benefits. This plant is a true sight to see when it blooms from mid to late summer.
Phenomenal Lavender makes a wonderful addition to sunny gardens and creates a defined border in a garden. It's highly fragrant with concentrated essential oils, and can even be dried for potpourri or used for edible culinary purposes. These flower-heavy perennials are also great for attracting bees and butterflies to your garden! As an added bonus, the Lavender Phenomenal blooms make for stunning additions to cut flower arrangements.
---
Growzone: 4-9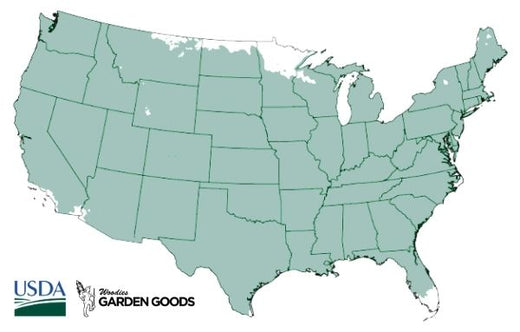 | | |
| --- | --- |
| Hardiness Zone: | 4-9 |
| Mature Height: | 2 to 2.5 Feet |
| Mature Width: | 4 Feet |
| Sunlight: | Full sun |
| Water Requirements: | Water well until established |
| Selling Points: | Fragrant foliage, long bloom period |
---
How to Care for Phenomenal Lavender
Be sure to read our planting instructions to ensure a healthy and happy plant for years to come!

How to plant Lavender Phenomenal
Since this plant grows best in zones 4-9, it can grow well just about anywhere in the United States - even in places you didn't think it could! It was designed to be cold hardy, drought-resistant, and tolerant of extreme temperatures and humidity. The best time to plant a new specimen is around the early spring after the last frost hits, giving it enough time to establish itself through the spring and summer seasons.
When you're ready to plant the lavender, make sure to choose an area in your garden that receives full sunlight and has well-draining soil. If the soil retains too much moisture and doesn't drain well, it could cause root rot which can kill the plant. In case your soil is more of clay-like consistency, you may consider planting the Phenomenal Lavender plant in a raised bed, on a slanting slope to promote drainage, or in a rock garden.
Because the Phenomenal Lavender plant is a perennial, it needs room to grow and spread wide. We recommend digging a planting well as deep as the root ball of the plant and nearly twice as wide. This will help provide ample space for roots to spread as it grows.

Fertilizing Lavender Phenomenal
Fertilizer or other organic matter, like compost, can help provide added and necessary nutrients to your plant. The best time to fertilize your plant is at the start of the growing season in spring. Fertilizer should help promote additional growth, and doing so at the start of the growing season can help the new growth establish itself before the season ends. We recommend fertilizing annually at the start of the season and using a slow release fertilizer, like Bio-Tone Plus Starter Plus. It's a long standing favorite among gardeners, ourselves included, due to the high contents of ectomycorrhizal and endomycorrhizal - a beneficial fungus that helps to retain moisture and absorb nutrients through the root system.

Watering Lavender Phenomenal Plants
A fresh plant is most vulnerable during the transplantation phase (when it's just been planted in a new area). It hasn't had a chance to take to the new environment and establish itself, therefore, it is going to require more maintenance for the first few weeks. Thorough watering is recommended at least once a week, if not multiple times, to help the roots settle and grow. If you're not sure whether you're sufficiently watering the plant, check it yourself by sticking a gardening trowel into the ground and feeling the soil by hand. The soil should be moist about 1-inch below the surface.
Once the plant is established, typically after the first season it has been planted, you can reduce the frequency of watering to roughly once a week (depending on what grow zone you live in). More often than not, plants and trees die from overwatering than underwatering, so be sure to check in your plant and the moisture levels in the soil until you develop a good pattern or routine for yourself. It's best to slowly water the plant so the water can thoroughly penetrate through the soil and into the root system. An easy way to ensure a controlled and even watering is by using the Dewitt dew right tree Watering Bag.
Mulching Lavender Phenomenal
Mulching is an excellent and rather easy way to help provide essential nutrients to your plants, protect it from extreme temperatures, retain moisture, and also keep weed growth at bay. In drier climates, adding a layer of pine needles or nutrient-rich bark and leaves. If you live in an area that experiences more humidity, a layer of gravel can help to avoid excessive moisture from accumulating and promote drainage.
How Do You Prune Phenomenal Lavender?
While pruning is not required, trimming or clipping back dead leaves and growth can help maintain a dense or shapely look, and also to make room for new growth. We recommend clipping the plant back by half in early spring so it has enough time to heal and sprout new growth. It's always best to use sharp shears that will cut cleanly, leaving minimal damage. You can also trim some of the long, flowering stems during the summer time to add a pop of color and a fresh aroma in your home. There are many functional uses that can be derived from trimming a lavender plant. This includes creating sachets from the dried flowers to freshen up your wardrobe or linen closet, using the Lavender Phenomenal in cooking or baking (it's edible), or creating essential oils for added health benefits.
---
Frequently Asked questions
Is a Phenomenal Lavender Evergreen or Deciduous?
---
General questions
What do the pot sizes mean?
---
---
Other Products you may be interested in
---
Customer Reviews