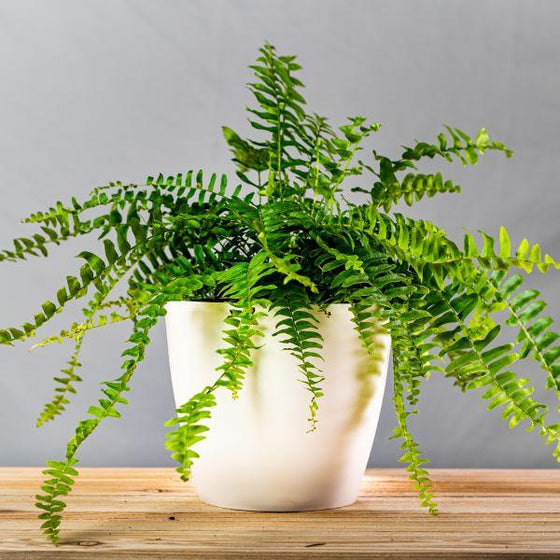 Images Depicted Range in Maturity & Container Size
Pots Not Included Unless Otherwise Stated
Boston Fern Plants for Sale Online
Boston Fern (Nephrolepis exaltata) is a tropical indoor fern best known for growing in hanging baskets. They are versatile, easy to care for, and will thrive in partial to full shade. Boston Fern plants love humid climates and do well on porches, patios, and decks in the spring and summer. It is a weather-resistant fern; in the winter, you can bring it inside or allow it to enter dormancy outdoors.
The Boston Fern plant's lush and elegant foliage has been used to decorate homes and gardens since the Victorian era, making it one of the most popular indoor/outdoor fern plants available. Also known as the Fishbone Fern, Sword Fern, and Tuber Ladder Fern, the ornamental leaves resemble a fishbone, and the long, green fronds grow into a dense, arching cluster. Boston Ferns require moist soil, be sure to water and mist your fern regularly.
---
Growzone: 9-11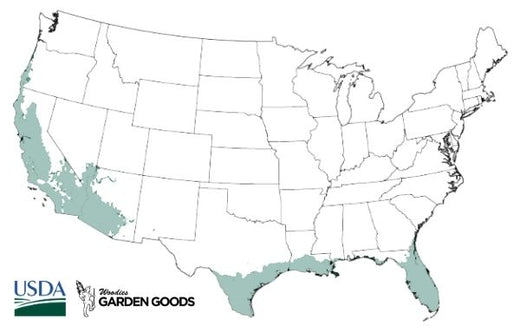 | | |
| --- | --- |
| Hardiness Zone | 9-11 |
| Mature Height: | 12 to 18 Inches |
| Mature Width: | 18 to 36 Inches |
| Classification: | Green Foliage |
| Sunlight: | Bright, indirect light to mostly shade |
| Habit: | Cascading, dense |
| Flower Color: | Does not flower |
| Foliage: | Green, flat fronds |
| Soil Condition: | Prefers soil that will retain moisture |
| Water Requirements: | Does not like to dry out between watering |
| Uses: | Excellent individually or in a container or hanging basket, inside or out |
---
How to Care for Boston Fern
Before you buy a Boston Fern Plant, be sure to read the recommended care instructions to ensure your plant remains happy and healthy for years to come!

What is the best light for Boston Ferns?
Indoors, Boston Fern needs bright, indirect light from a windowsill. Northern or eastern-facing windows would keep your plant happy. Outside, Boston Ferns can handle some sun, but not much. Again, eastern exposure or dappled shade would be ideal. The fronds will burn and turn yellow then brown if exposed to too much sunlight.

How often do I water Boston Fern Plants?
Boston Ferns thrive best in slightly moist but never soggy soil conditions. If their soil dries out, the fern's foliage will quickly dry out and fall off the plant. However, do not overwater this plant. Soggy soil could cause root rot and damage your plant's root system. A way to avoid this problem is to plant your fern in a well-draining potting mix. During the fall and winter months, slightly reduce your watering schedule. The plant has entered its growth dormancy period and does not need the same care requirements it needs in the spring and summer.

How do I fertilize Boston Ferns?
You should be fertilizing your Boston Fern from spring to early fall. When feeding your plant, we recommend using a liquid houseplant fertilizer at half the recommended dose. Doing so will ensure you do not burn the roots of your plant. Do this once a month to give your plant the right amount of nutrients it requires to grow happy and healthy. During late fall and winter, do not fertilize your plant. They have entered their growth dormancy period and do not need to be fertilized.

What is the best soil for Boston Fern Plants?
Boston Fern likes dense soil and prefers to have moist conditions. Plants can not stay constantly wet but do not like to go completely dry either. It's best to use a regular potting mix or a potting mix based on peat moss, which retains moisture. Poorly draining soil conditions will cause root rot, and if that is not fixed quickly, this disease could kill your houseplant. Any rich, loamy soil with good drainage will make your fern very happy.
---
Frequently Asked questions
Are Boston Ferns toxic to pets?
How Do I Propagate My Boston Fern?
How Should I Repot My Boston Fern?
---
Other Products you may be interested in
---
Customer Reviews