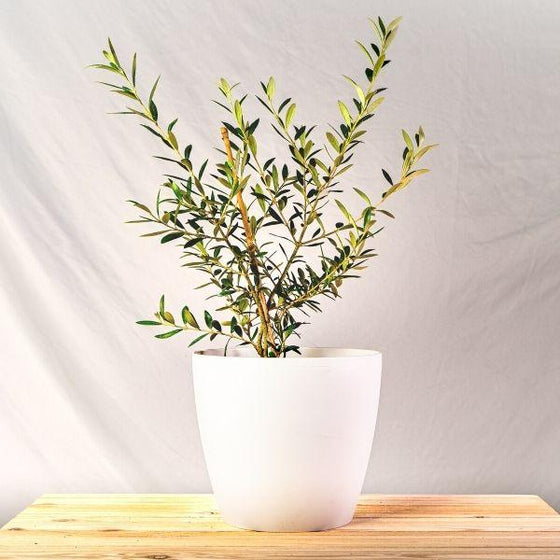 Images Depicted Range in Maturity & Container Size
Pots Not Included Unless Otherwise Stated
Arbequina Olive Trees for Sale Online
The Arbequina Olive Tree (Olea europaea Arbequina) is a beautiful, fast-growing indoor tree that produces delicious edible olives. These Olive trees are very drought-tolerant and love the hot sun. They are compact, hardy, and highly adaptable, making them ideal for home growers because of their ease of care. When you buy your Arbequina Olive online, plant it in the ground or in a container outdoors to be taken inside for the winter.
Among the silvery green foliage, this Mediterranean tree produces fruit. Arbequina olives start green and transition to black as they ripen with small pits in the center. Harvest tends to be in late November so that you can impress your dinner guests with fresh table olives around the holidays.
If you've ever wished for a live olive tree in your home or garden, now is the time to buy an olive tree.
---
Growzone: 7-10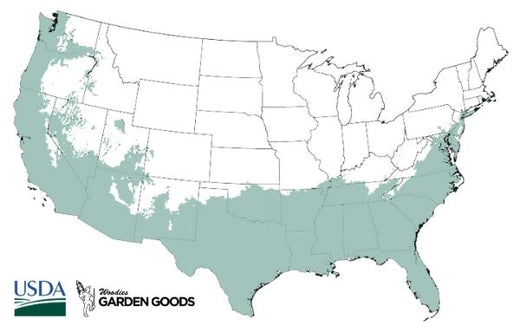 | | |
| --- | --- |
| Hardiness Zone: | 7-10 Outdoors; 4-6 indoors as a patio tree |
| Mature Height: | 14 to 18 Feet |
| Mature Width: | 10 to 12 Feet |
| Classification: | Fruit tree |
| Sunlight: | Bright, direct to full sun (if outdoors) |
| Habit: | Tree form, clear trunk |
| Flower Color: | White |
| Foliage: | Dark green |
| Soil Condition: | Any well drained soil |
| Water Requirements: | Likes to dry out between watering |
| Uses: | Will produce fruit |
---
How to Care for Arbequina Olive Tree
Before you buy an Arbequina Olive Tree, make sure to read about the recommended care instructions to keep this plant healthy and thriving.

How do I water Arbequina Olive Trees?
Arbequina Olive Trees like to dry out occasionally between watering. It does not like to stay or sit in water or get too dry. Trees that are too dry will drop their leaves, trees that are too wet will have leaves that turn yellow before dropping. Ideally, Arbequina Olive Trees like to stay moist but do not like to dry out completely.

What soil is best for Arbequina Olive Trees?
Arbequina Olive Trees need very well-draining soil and prefer to have moist conditions. A regular potting mix works well for plants potted in containers, some sand can be added to the potting mix to prevent the tree from staying too wet. Try to avoid an area with clay soil if planting. Alkaline soils may be beneficial to the tree's growth.

What is the best light for Arbequina Olive Trees?
Arbequina Olive Trees require full to partial sun. Ideally several hours of bright, direct light. A western or southern window provides enough light to keep these trees happy. Outdoors, the trees can handle full sun to part shade.

How do I fertilize Arebequina Olive Trees?
Any all-purpose, foliage fertilizer will work for Arbequina Olive Trees. Indoor houseplant fertilizers fall into two groups: water-soluble, liquid quick release, and granular, slow-release fertilizers. Jack's Classic Indoor plant food works well as a powder, quick release fertilizer that is mixed with water to quickly provide nutrients to a plant that has been in a container for an extended time. Osmocote Indoor/Outdoor is an option as a granular, slow-release fertilizer that can be applied while potting and planting. Any type of fertilizer offers nutrients that help plants with the transition to a new environment.
---
Additional Information
Compared to other olive trees, the Arbequina Olives have the highest concentration of oil. If you're up for the challenge, the olives can be pressed to make your own high-quality olive oil. Olive trees are also an ideal outdoor patio plant in the warmer months!
Plant olive trees outdoors near your patio or porch in USDA hardiness zone 7 or higher so you'll never miss a moment of this exceptional tree's harvest and beauty. These also do well in containers and adjust easily from outdoor to indoor for winter so those in colder climates can enjoy them year-round.
Arbequina Olive Trees are a graceful, gentle tree with small dark green leaves that prefer to be several hours of sunlight. They would do best with exposure to a western or southern window indoors and in a protected spot. The Arbequina Olive Tree, otherwise known as the European Olive, serves as an excellent focal point for any room in the house. These versatile trees can even be placed outside in the full sun in regions where it is hardy.
History and introduction of Arbequina Olive Tree:
Olive trees are one of the first trees to be cultivated (2500 B.C. in Crete). An olive branch is a symbol of peace. The Arbequina is the main olive that is produced in Catalonia, Spain.
---
Frequently Asked questions
How to plant Arbequina Olive Trees?
How to prune Arbequina Olive Trees?
How big to Arbequina Olive Trees Get?
Are Arbequina Olive trees self-pollinating?
---
Other Products you may be interested in
---
Customer Reviews