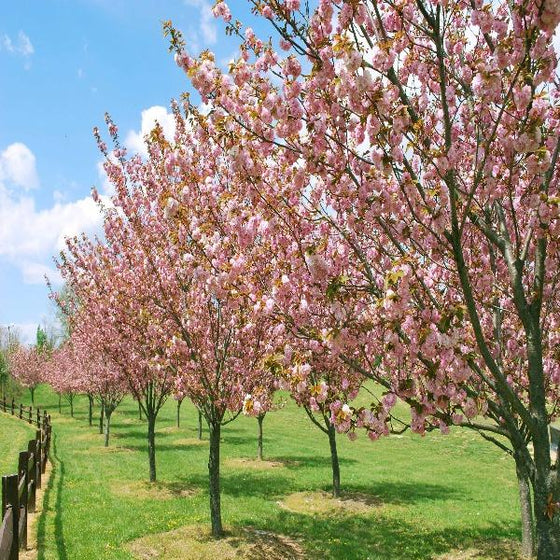 Images Depict Mature Plants
Okame Cherry Tree for Sale Online
The Okame Cherry Tree is an infamous tree well known for its bright pink blooms that emerge in early spring. As a harbinger of the season, this stunning Cherry Blossom tree is one of the first trees to bloom in early to mid-March.
You may recognize this stunning ornamental tree from its annual appearance at the Cherry Blossom Festival in Washington, D.C. Tourists from all over the world arrive by the thousands to witness the awe-inspiring show of the Okame Cherry Trees in bloom. Now you can enjoy the same beautiful pink burst of color and fragrance in your garden!
Beyond the unique rosy pink flowers that bring early spring color to a yard, the Okame tree is loved for its compact size and easy-to-grow nature. The Okame Cherry Blossoms are exceptionally hardy and can withstand high temperatures, humidity, and drought without issue. Ideal care for these flowering trees includes full sun and a well-draining soil medium.
Reaching a mature height of 15 to 20 feet, the Okame Cherries are the perfect specimen tree to make a statement without overtaking a space. As a bonus, the Okame cultivar is impressive in that young trees still produce beautiful pink blooms! Additionally, beyond their spring color show, Okame Cherry Trees put on a stunning display of color in the fall as well.
The classic and popular cherry trees are often used as yard focal points or along driveways and paths. The trees also work beautifully in mass plantings!
---
Growzone: 5-9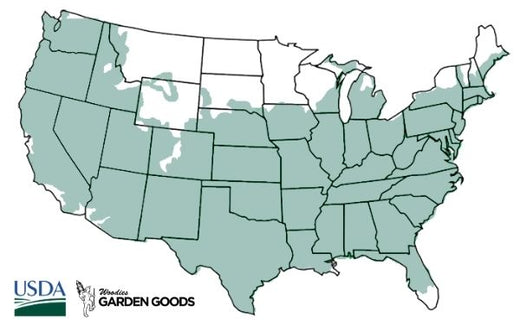 | | |
| --- | --- |
| Hardiness Zone: | 5-9 |
| Mature Height: | 20 to 30 Feet |
| Mature Width: | 20 to 25 Feet |
| Classification: | Broad leaved deciduous tree, spring flowering |
| Sunlight: | Full sun |
| Habit: | Upright, umbrella shaped canopy |
| Foliage: | Dark green, brilliant bronze-orange fall color |
| Flower Color: | Carmine-pink, very floriferous |
| Pruning Season: | No pruning needed |
| Soil Condition: | Any well drained soil |
| Water Requirements: | Water well until established |
| Uses: | Tolerates moist soil and full sun. Full sun brings out the best fall color. Will adapt to drier sites |
---
How to Care for Okame Cherry Tree
Be sure to read our planting instructions to ensure a healthy and happy plant for years to come!

How do I fertilize Okame Cherry Trees?
Trees such as Okame Cherry Tree grow best if they are fertilized lightly in the spring once frost has passed with a well-balanced, extended-release, fertilizer such as espoma Tree-tone. Fertilize Okame Cherry Tree again 6 to 8 weeks later to encourage denser foliage or faster growth of young trees. We recommend Bio-Tone fertilizer when planting. Either chemical fertilizers or organic matter can be used successfully with Okame Cherry Tree.

How often do I water an Okame Cherry Tree?
Give your tree a slow, deep watering after planting to encourage the roots to settle. After that, watering is imperative as the roots are establishing. Water 2-3 times a week for the first month or so, then once a week after that for the first year. Remember, trees prefer less frequent deep, thorough waterings over daily spritzes.

How do I plant an Okame Cherry Blossom tree?
Remove a container-grown tree carefully from its pot and, if your tree's roots are balled and wrapped, carefully remove the wrapping. Water a container-grown or balled tree well before you begin, because this helps keep soil in place around the roots. Place the tree in a pre-dug hole that's at least 1 foot wider in diameter than its roots, ensuring that you plant the tree at the same depth as it was earlier. Backfill the hole with soil amended with compost and water the tree well, ensuring that there are no air pockets around its roots.|We highly recommend that you mulch your Okame Cherry Tree with either a ground hardwood mulch or a ground cypress mulch depending on your local availability. Any type of mulch will do but cypress or hardwood mulch will be of a higher quality and provide better nutrition overall as they breakdown. Mulching helps to keep weeds away which will compete with your new investment for water and nutrients. A 2 to 3 inch layer of mulch is sufficient but remember to take care not to cover any part of the stem of the plant with mulch. Its better to leave a one inch gap of space between the mulch and the stem or trunk of the plant.

How do I prune Okame Flowering Cherry Trees?
In general gardening terms, pruning is probably the most misunderstood gardening chore, and certainly, the chore that is most likely neglected. When we specifically look at pruning with regards to trees, this misunderstanding and negligence can be magnified. Pruning has been described as a "combination of art and science." I find pruning to be one of the most relaxing yet rewarding chores in the garden. Pruning a specific plant to look a specific way, involves art in creating a unique definition for a specific plant, and it involves science in understanding the physical growing habits of the plant to be pruned. The most important reason for pruning tree is to improve the overall health of the plant which in turn will reward you with a plethora of blooms. Many times, trees that have not been pruned in a few years will develop dead or degenerative twigs. Removing the dead and dying limbs will minimize the possibility of diseases such as "dieback" and will also allow the plant to re-concentrate its energies and produce flowers. It is important to always use sharp tools when pruning Okame Cherry Tree or any plant for that matter. Knives, hand cutters, saws, and shears should be sharpened if necessary before pruning any plant. A sharp cut will heal quicker than a jagged cut, which will also minimize the likelihood of disease investing a cut during pruning. It is generally recommended to not use power equipment such as gas hedgers to prune Okame Cherry Tree. Pruning large Okame Cherry Tree may be minor or major. Its general purpose is to maintain or restore vigor to the plant. Large Magnolia Centennial Blush Tree that have been severely pruned have the advantage of a large root system that has excessive capacity, and its roots are capable of supplying all of its energies to a smaller number of branches and foliage. This enables the plant to increase its vigor, and become healthier. Pruning large Okame Cherry Tree that are well established will enable the plant to have continued vigor, and lead to many more years of supplying beauty to the landscape.
---
General questions
How‌ ‌do‌ ‌we‌ ‌measure‌ ‌heights‌ ‌on‌ ‌Trees‌ ‌and‌ ‌Shrubs?‌ ‌
Why are trees sold in 1-foot increments?
---
---
Other Products you may be interested in
---
Customer Reviews