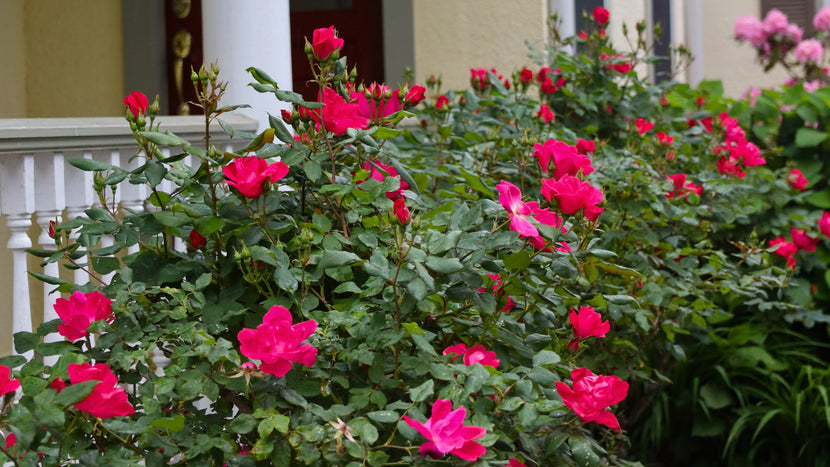 Why We Love Landscaping With Drift® Roses
Roses are a classic landscaping option that have been all the rage in the garden world for as long as we can remember. Roses have a long and colorful history dating back to 35 million years ago! As one of the oldest flowering plants in history, it's no wonder why these hardy shrubs have made the impact they have!
Drift® Roses are just as, if not more, popular than their rose cultivar for they've been bred to have a range of sought-after qualities, and they work in just about any landscape design! Keep reading to learn why we love landscaping with Drift® Roses.
History of Drift Roses
The Conard-Pyle Company based in Pennsylvania first introduced the 'Knock Out' rose to America in 1989. Not long after, the horticultural company saw an opportunity to create a smaller, more easily manageable rose shrub with the same gorgeous blooms!
In 1992, prototypes of the White Drift Rose were bred in Pennsylvania. However, the roses surprisingly didn't gain traction and become popular until the mid-2000s. Making their official introduction into the garden world in 2007, people then began to learn why the Drift® Rose was the superior rose plant to use in the landscape.
Benefits of Drift® Roses
Hardy To The Elements
Drift® Roses are a cross between full-size groundcover roses and miniature roses. Boasting a hardiness to the elements, strong disease resistance, and tolerance to cold conditions, the Drift® Rose is an all-star shrub that everyone should have in their landscape!
These incredible specimens are especially resistant to the problematic diseases that many roses suffer from including powdery mildew, rust, and black spot. The Drift® Rose is thus the perfect option f you are attempting to limit pesticide use and opt for more organic growth.
Small Form Perfect For Use As Ground Covers
Reaching a mature height of about three feet tall and approximately three feet in width, these decadent flowering shrubs are perfect for a range of garden projects big and small!
Specifically, Drift® Roses are loved for their low-growing spreading habit, which makes them ideal for use as a ground cover in the landscape. The small form also makes these shrubs great for smaller yards and more secluded areas with limited space.
If you want the beauty and elegance of a rose shrub in your landscape but feel restricted in space, the Drift® Rose is likely the perfect option for you!
Long-Blooming
An additional benefit of Drift® Roses is their long-blooming nature! These magnificent shrubs produce abundant flowers from early April through to the first frost of fall!
The Drift® Roses will bloom every five to six weeks. If you want to incorporate long-lasting color into your landscape, Drift® Roses will get the job done!
Traditional Beauty And Variety
Beyond their hardiness and small form, Drift® Roses are praised for their more traditional blooms, along with the wide variety of colors available! With the options of colors from red to white to peachy corals and yellows, you can plant the rainbow in your garden with Drift® Roses.
Here at Garden Goods Direct, we offer eight different varieties of drift roses ensuring our customers have a good range of color options for their landscape projects.
For the more classic, English cottage-style garden. We would recommend the White Drift® Rose or the Red Drift® Rose. If you are looking to bring a unique contrast of color to the garden, we would recommend the Coral Drift Rose or the Apricot Drift Rose.
Caring For Your Drift® Roses
Convinced you need some Drift® Roses in your life? We can't blame you! To ensure your Drift® Roses thrive, we would recommend planting in full sun in well-drained soil. We recommend pruning your rose shrub in early spring. It is important that you do not prune your shrub in the fall or winter.
Your rose plant will also benefit from the application of a slow-release fertilizer in the growing seasons of spring and summer. Espoma Bio-Tone Starter Plus is a great organic fertilizer to feed your roses with.
Shop Drift® Roses Online
No matter your style, or your plans for the landscape, here at Garden Goods Direct, we pride ourselves on carrying all of your garden and landscape needs! Have your Drift® Roses, along with anything else you might need shipped conveniently to your front door!