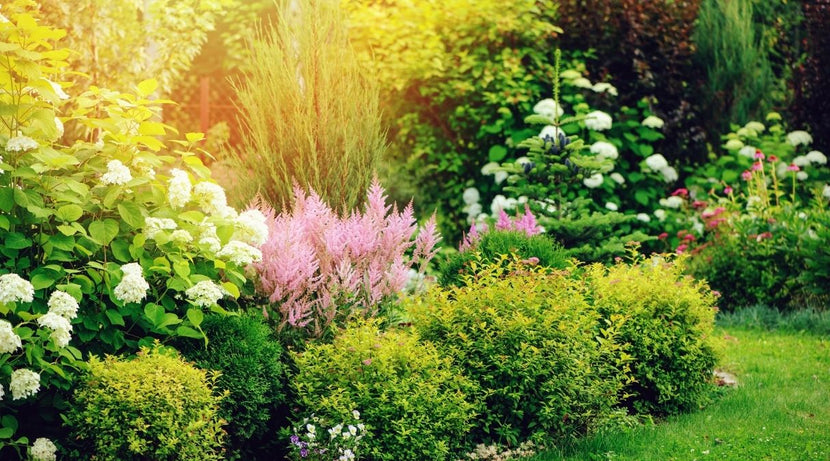 Gardening Trends for 2021
Plants bring health and happiness: it's proven scientifically but we've known this for centuries. According to UNC Heathcare's Healthtalk Blog, gardening has been shown to reduce stress, improve heart health, build self-esteem, strengthen hand coordination, increase serotonin, and improve family bonds. Being outside working in soil is also important for exercise and vitamin D. The joys and benefits of gardening are a major part of why we created Garden Goods Direct - to share what we've known for generations to homes across America - gardening is good for you and you can landscape all year long.
We've looked at sales, spoken with experts, consulted our customers, researched with our botanical experts, and studied the gardening and landscaping industry... all with one goal in mind. What is new for 2021? What's trending? What can new and experienced gardeners look forward to in the new year? After our research, here is our top 20 for 2021 list. It consists of two parts: our top 10 indoor plant trends for 2021 and our top 10 garden trends for 2021. (Why such a big list? Because we can – we are proud to offer one of the biggest selections of any online garden center… so we'll flex a bit ;-) ) So, here it is, without further ado - our predictions for home gardening in 2021.
1. An Outdoor Living Room
The biggest trend for 2021 that we're excited about are outdoor living spaces. Homeowners are extending their living spaces into their backyards, and outdoor furniture and paved pathways are being surrounded by container gardens and cozy shrubs. Bringing indoor comforts outside is going to be big this year, since it will probably still be awhile before we can lounge at rooftop bars or sit at concerts again. A great way to make an outdoor space feel cozy is to plant shrubs and trees in such a way that they create some boundaries around your space, similar to partitioning a loft space into "rooms." An Eastern Redbud is a perfect shade tree with vibrant seasonal colors, perfect to sit under and sip lemonade. Emerald Green Arborvitaes are an ultimate go-to for privacy trees around your home. Baby Gem Boxwoods have a naturally round, compact growth habit and will bring a nice, formal touch. Gardenia Fragrant Pathways is like the outdoor living space equivalent of lighting a candle, it's so fragrant. And don't forget to surround yourself in luxurious re-blooming hydrangeas such as Hydrangea Endless Summer for constant color around your new favorite outdoor relaxation spot.
2. Cat's Got Your Tongue (2021 Perennial of the Year)
Each year, the Perennial Plant Association chooses a plant of the year, very similar to the way Pantone announced their color of the year. Each plant must meet a list of criteria, a list designed so that this plant will thrive in a variety of locations and create interest in your garden across multiple seasons. They also choose plants that are relatively disease and pest resistant and are readily available to the gardening community. This year, they've chosen Calamintha Nepeta, or Lesser Catmint. This fragrant perennial is perfect for creating a lovely cloud of small white flowers, perfect for long borders or to drape over rock gardens. Lesser catmint is also great for supporting slopes. This perennial will spread, so if you need a plant to bloom with sprays of white flowers in the spring and an evergreen carpet all of the other seasons across larger spaces, this is the perfect choice for you. Plant below trees to add an extra layer of visual interest as well.
3. Scheming in (One) Color
Often, the preconceived notion of successful gardening is the ability to paint a veritable technicolor dreamcoat of floral colors. This style with layers of rainbows in plant form is wonderful for some, but that isn't the only way to incorporate color into your outdoor spaces. If you prefer something with a stronger sense of unity and minimalism, but you still want to have a lush and vibrant garden, then consider a trendy monochromatic garden. Pick a color that speaks to you, and then plant accordingly. If this more subtle way of gardening fits with your sense of style, then you are in good company in 2021. For example, white flowering shrubs like white azaleas can be paired with white variegated hostas and a white perennial like Calamintha nepeta. Or, frame a yellow-themed garden with Arborvitae Forever Goldy. Our trees and shrub collections are now organized by color to make your garden designing a breeze. Here are some plant combinations we recommend based on monochromatic garden color choices (all perfect for full sun to partial sun gardens):
White Flowers
(top choice for single color gardens)

Hydrangea Nikko Blue
Bluebeard Midnight Blue
Blue Cardinal Flower
Agastache Blue Fortune

White Dogwood
Calamintha Nepeta
(Perennial of the Year 2021)
Hydrangea Annabelle
Laurel Schipkanesis
White Forsythia
Becky Shasta Daisy

Cherokee Brave Dogwood
Red Knockout Rose
Dynamite Crape Myrtle
Cardinal Red Hydrangea
Camellia Kramer Supreme (shade)
Yellow Flowers
(Pantone's Color of the Year 2021)

Purple Magic Crape Myrtle
Veronica Royal Candles
Nepeta Walkers Low
Lavender Phenomenal

Magnolia Butterflies
Rhododendron Capistrano
Achillea Moonshine
Solidago Fireworks
Coreopsis Moonbeam

Pink Knockout Roses
Tuscarora Crape Myrtle
Sarah Bernhardt Peony
Biokovo Geranium
Endless Summer Pink Crush Hydrangea
Gumpo Pink Azalea
4. Sustain Yourself
Early in 2020, there was a lot of free time stuck at home and a lot of worry about how our lives would be changed by a worldwide pandemic. Many, many Americans were inspired to start growing their own food. Even though (thankfully!) grocery store supply chains have re-stabilized, the idea of self-sustainability has not lost traction. Growing your own food is certainly still a trend in 2021, and it is one that both helps cut down on your carbon footprint and encourages a healthier lifestyle. While vegetable gardens need to be planted each year, investing in trees and shrubs with edible fruits means you can harvest food year after year from the same plants. It may take some time for these young plants to create big harvests, but with a little patience and some careful planning upfront, you can enjoy delicious fresh food from your own backyard. Here are some apple trees, peach trees, blueberry shrubs, and other fruiting plants that we think are a great place to start. (Don't forget to check the FAQs on each plant page to see if the variety you choose needs a pollinating partner!)
Honey crisp apple
Fuji apple
Anna Apple
Elberta Peach
Premier Blueberry
Climax Blueberry
Sweet Southern Cherry
5. Smell-o-Vision
As we mentioned in the first trend in this list, many Americans are spending more and more time relaxing outdoors. A big trend for 2021 will be creating a multi-sensory experience in those outdoor oases, including scent. Highly fragrant shrubs and perennials are rising in popularity, and we're not surprised. Aromatherapy is so relaxing, and now you can create that relaxing environment at home. Plant a few of these fragrant choices near your home, and enjoy pleasant scents each time you walk by and enjoy your garden.
Gardenia Frost proof
Butterfly Bush Black Knight
Viburnum burkwoodii
Nepeta walkers Low
Lavender Munstead
Lilac Sensation
6. Keeping it Contained
As gardening has gained popularity in general, so has the resourcefulness of our customers who live in big cities. As a followup to the previous trend, sustainable gardening is not necessarily reserved to those with wide acres of land available for grand orchards. If you are limited to an apartment or are renting and cannot build a big garden, fear not! Container gardens are perfect for you. Many plants, while best in the ground, can still thrive in large containers on apartment balconies or decks. As long as you are careful in choosing the right plants and are attentive to their needs (i.e. create a solid watering and fertilizing routine!), you too can join in on all of these gardening trends.
Fruits for Small Containers

Flowering Shrubs for Containers

Trees for Containers

Petite Butterfly Bushes
Bluebeard Beyond Midnight

Wolf Eyes Dogwood


(flowering and great fall color!)

Babylace Japanese Maple or Shishigashira Japanese Maple


(fall interest)

Emerald Petite Arborvitae


(evergreen specimen tree that only grows 6 feet tall)
7. Escape to a Secret Garden
If you want to take your outdoor spaces to the next level, you can do so by creating smaller private spaces within your larger backyard. If you enjoy the romanticism of a secret garden, use trees and shrubs that won't grow 20 feet tall - when planted just behind a few benches, you can create an outdoor getaway all your own. We've seen a big rise in growers creating varieties of trees & hedge-forming shrubs that stay within smaller, more manageable sizes once they have reached maturity, such as the new Emerald Petite Arborvitae. It might not create a privacy wall to keep out the Jones', but bringing these inside of your backyard for a formal hedge can create a sense of coziness. Dwarf Hinoki Cypress, Spirea Magic Carpet, or Deutzia Yuki Cherry Blossom will also do the trick. Add in a few hardscape elements, such as a trellis or garden wall, and you are on your way to having a garden hideaway of your own. Layer shade-loving plants nearby (like ferns or hostas) for added layers of interest around the sitting area.
8. Every Season Plays its Part
If you are going to spend time expanding your homestead into outdoor areas, you shouldn't have to worry about which seasons will be the most enjoyable. Many of the trees and shrubs we sell either rebloom multiple times throughout the year (Encore Azaleas and Endless Summer Hydrangeas), or they do not show their true colors until colder seasons. We have multiple articles dedicated to this 2021 trend: planting ahead for winter interest gardens. Plant a few of these amongst your spring and summer showstoppers for a lush backdrop. Then later you'll have a perfect layer of winter interest ready to go once everything else goes dormant. (Don't forget to leave your grasses and perennials up for birds to eat when its cold).
Dogwood Midwinter Fire
Wintergreen Teaberry
Red Sprite winterberry
Helleborus Pine Knot
Camellia Winters Star
9. Cut it Out!
If you are in a position where you cannot go out to garden centers or florists, you can plant flowering shrubs and perennials and cut your own beautiful bouquets. Flower arrangements are an ancient art form, and it's a new hobby that we are seeing more and more of. Choose plants that will create handsome bouquets together, then harvest a few flower cuttings from each throughout the season. This way you can enjoy beautiful flowers inside and outside. Here are a few classic options that can get your cut flowers garden started:
Shasta Daisy Becky
Iris Caesars Brother
Hydrangea Ruby Slippers
10. Neighborly Love
One of the biggest trends in gardening and landscaping is the growing interest in how our gardens are affecting the native ecosystems we live near. While we've been able to import some absolutely breathtaking plants from around the world, some of these newly introduced plants have been spreading into neighboring meadows and forests, crowding out the native shrubbery that local wildlife needs for food. Growers have been working hard to develop non-invasive alternatives so that we can enjoy the beauty of international plants without them leaving our property. Some of these sterile options have been in development for over 20 years! In addition to planting these new sterile shrubs, designing gardens that use the native shrubs your local birds need is a great way to garden ethically. An added bonus: you can enjoy some lovely bird watching from the comfort of your home.
Plants with Food for Birds

Non-Invasive Shrubs

Winterberry Red Sprite
Low Bush Blueberry

Todo Barberry
Firepower Nandina
Obsession Nandina
Butterfly Bush Pugster varietes
The past year has brought major upheavals in our lives, our routines, and what we can expect in the new year. At Garden Goods Direct, we hope that we may continue to do what we are passionate about: bringing a small piece of comfort and fun to our customers through the joy of gardening. We are thankful that we have been able to ship across the country all year long, and we plan on constantly improving how we do so. Both novice gardeners dipping their toe in for the first time and experienced green thumbs can all hopefully enjoy these new trending points of inspiration for the new year.
Thank you and we'll see you in the garden!