Easy Ways to Use Privacy in Your Yard
Your home is your castle. But not every home is set on acres of land and separated from the closest neighbors by a moat. For the rest of us, we have to take steps to get the privacy we crave in our yards. Fencing is always an option but maybe you don't like the look of traditional fencing or maybe you don't like the idea of forking over the money to buy one. If you are looking for a different way to add a buffer between you and your neighbors, there are some easy creative ways to add privacy to your yard with trees and shrubs. Fast growing privacy trees create a natural barrier that is both beautiful and functional.
Three Easy Ways to Add a Buffer To Your Yard with Privacy Trees
Add a 'Living Fence' of Evergreen Trees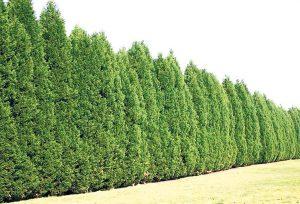 This is often the most efficient way to screen out the world around you. Popular privacy trees are Leyland Cypress, Green Giant Arborvitae, Emerald Green Arborvitae, White Pine, and Spruce trees. These trees will get very large and will need more space than the Emerald Green Arborvitae so plan your spacing accordingly. Growth time is also a main concern to consider many customers want their buffer to grow very fast and while nothing is immediate, Leyland Cypress and Green Giant Arborvitae are both very fast growing trees and this is the main reason they are among the most popular privacy trees or buffer trees.
Create a Privacy Hedge with Shrubs
Shrubs can be added to create a hedge around a patio as well as serve as a privacy fence line. Popular hedge shrubs include Red Tipped Photinia, Euonymus, Barberry and Boxwood. These shrubs can also be planted in pots and placed as a screen directly on a patio for a mobile version of your hedge.
Use Garden Pots as a Mobile Buffer for Your Yard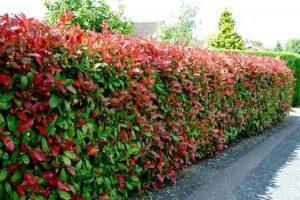 Tall Garden pots can be used in a smaller yard where a buffer of evergreens might not be easily accomplished. Depending on where you live and the season, you can add palm trees in the summer, grasses in the fall and evergreens in the winter to keep a beautiful green backdrop throughout the year. Bamboo trees make a great buffer in garden pots.